Ending the visit
Thanks for stopping in.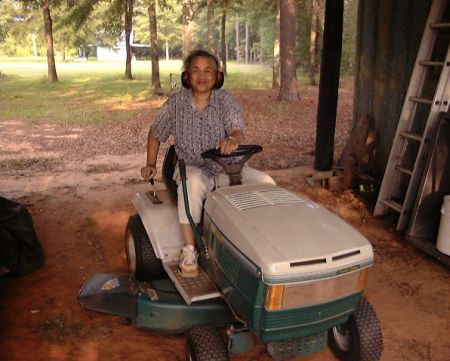 This virtual visit was actually better than a real one, at least for us. You couldn't see the places that need some paint, or the sunroom that could be better cleaned up, or the interior not looking like House Beautiful.
We're not slobs, but fact is, living out here lets you forget about decorating perfection. Or keeping up with neighbors. We can relax, and we surely do.
Sometimes Jem and I wonder at our share of good fortune. We must have done something right in a previous life.
And yet, as much as we like it here, neither of us yet feels an identification with this land, a fond pride or fierce love for it.
I wish this was land where my bones or ashes could forever rest. Our home here, happy as it may be, doesn't seem to be that place.
Maybe I'll find it in my next life.
-------------
Postscript:

In May 2008 I took a job in San Antonio to let us be closer to our children and grandchildren.

We had a buyer the first day the house was on the market, and closed a month later.

Driving to Texas, our pickup full of family photos, the computer, potted plants, whatever the movers didn't take, my wife and I floated between waves of happiness and regret.

A few weeks later, living in one of America's largest cities, we realized what a dreadful mistake we'd made.
---------------
Update, September 2016. We love San Antonio. So many work, cultural and volunteer opportunities. Ping pong players, some terrific, at the senior center. The best public library system I've ever seen. A Jewish War Veterans of America post. Excellent highway system. HEB supermarkets (now only in Texas, one day the world.) Three large military bases (Lackland AFB, Randolph AFB, Fort Sam Houston). I could go on and on but don't want to seem like I'm gloating.
Best thing that ever happened to us, moving here. Our next move will be to the National Cemetery at Fort Sam.
home page 1. View from front gate 2. Woods along the street 3. Backyard 4. Cabin 5. Ending the visit