The cabin
The previous owner's handicapped daughter lived in the cabin, but it's been empty since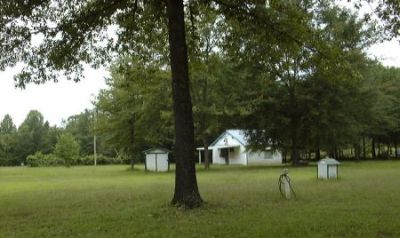 we've been here. We've even turned off its electricity and water.
The cabin is utilitarian, small (about 400 sq ft), and not bad for one person. There's a bedroom, a bathroom, a kitchen/living room, and overhead storage in the attic.
We once considered renting it out, but decided the extra few bucks weren't worth the peace of mind and privacy we'd be losing.
The small "dog house" at right covers the well-head. The shed at left holds the well's water tank and pump.
A large open field a couple acres in size, mostly not visible in the photo, is in front of the cabin.
The tree line in the rear, behind the grape trellis, is our far property line. But we're blessed with great neighbors, some having become friends, and really don't need any of our tree lines.
Sometimes we wonder how it would be if a friend bought this half of our property and built a home on it. Jem and I would have reliable companionship close by, and ha, a lot less grass to cut.
next: ending the visit
home page 1. View from front gate 2. Woods along the street 3. Backyard 4. Cabin 5. Ending the visit