The backyard
...is where we spend most of our time.
It has our two largest vegetable gardens. There are four altogether, more or less; my dear wife puts plants anywhere and everywhere the spirit moves her. Easy to do when you've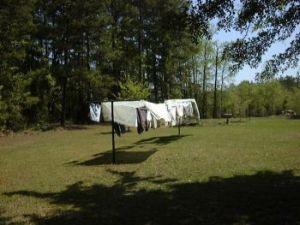 got more earth than you know what to do with.
The backyard also has a workshop and a 25-foot 5-line clothesline, an old-fashioned blessing that seems to have disappeared from America, but that keeps our dryer from getting much use.
Below we see the many trees on the house's south and west sides that keep it cool and shaded in summer.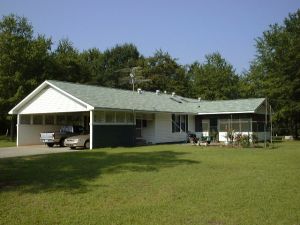 Sometimes we joke that we live in a park similar to the one we'd often visit 30 years ago in Lancaster, Pennsylvania, when we were penniless parents looking for a chance to get our children out of the apartment. All we need now is a pond with ducks asking for bread crumbs. Actually, that's not at all impossible.
The house is small, just 1700 sq ft. If we won the lottery, I might tear it down and build a dream house in the very same spot.
Or maybe not. Sometimes I suspect what makes our house so comfortable is that it has no pretensions. It's like the old sweatshirt you always wear, not the dress shirt gathering dust in the closet.
A few years ago we saw mole tracks in the yard. Moles burrow under the surface of the earth looking for food, causing damage to the top of the lawn in their search. Jem and I had the same reactions: 1) glad the red clay was getting turned over, and 2) thinking the local snakes would have a fresh meal soon. As they must have, not seeing any mole tracks since then.
Imagine if we lived in a showcase house with a golf course lawn: moles! Set out the traps, lay down the poison. Not here.
The screened sunroom gets used every season but winter. In summer we especially enjoy watching the cardinals, blue birds and hummingbirds stop for a drink or snack.
We think the 3-car carport is even better than a garage. With only 2 cars, backing in is performed with abandon. The carport keeps us from getting rained on going to and from the house, and ensures there's never any frost on the windshield even on winter's coldest mornings.
Opposite the carport, in the winter of 2007, I planted some grapevines, seen at right. What a pleasure it would be to gather their fruit year after year.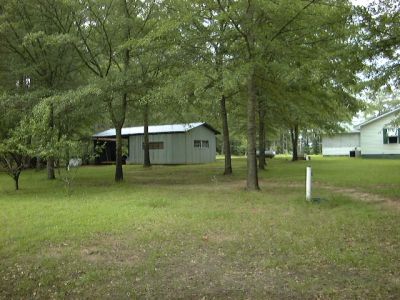 The photo at left shows the west side of the house. The workshop and garden shed are behind the house.
That white pole supports and insulates a water faucet, one of four the original owner put in. In dry weather we keep an overturned trash can lid under one or two of them, and let the faucet drip for squirrels, birds and deer.
On this side of the white pole we found a clear run of about 75 yards running left to right. Our teenage son, Ben, built a large archery target out of cloth scraps (free leftovers from a local factory), chicken wire, and 2x4s. We placed the target against the woods, then marked the ground every ten yards. Priceless.
To the right, my favorite place, the woodworking shop. Stepping out the house's back door, you go through the sunroom, take a left, and there it is.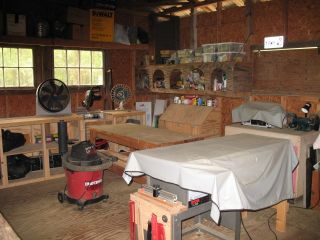 A few years ago some friends and I covered the outside with corrugated roofing tin, applied vertically. Weird, huh, but Jemjahn said it's often done that way in Thailand, and have to say, it's worked great, both protecting and strengthening the structure.
In our first year here, I'd try to remember to lock the workshop door at night. Since then I've "lost" the lock. We don't lock the cars at night either. We do lock the house doors when we're away, but as isolated as we are, a thief could easily break a window and come in without being detected, so don't know why we bother. In the past ten years, Jem has been here by herself in perfect safety while I was away at Fort Bragg, Fort Lee, Bosnia, Afghanistan and Iraq.
When we first moved out here, hearing nothing but birds and wind, seeing almost nothing of other human presence, we slept lightly, with one eye open and a gun ready. Now we sleep like babes on a mother's lap.
next: the cabin
home page 1. View from front gate 2. Woods along the street 3. Backyard 4. Cabin 5. Ending the visit