Artist: Leonard Cohen
CD Title: Live in Dublin
Comments: One of the finest songwriters ever. Some days, I can't think of any better.
For those who don't yet know him, I like this description from his Wikipedia entry: "His work often explores religion, isolation, sexuality, and interpersonal relationships."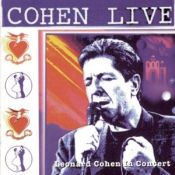 My favorite of his albums is COHEN LIVE, where you'll hear many of his best songs and the support of a terrific band and backup singers. Maybe I like this album most because half of it is part of a show on Austin City Limits that held me enthralled from just a small TV screen.
You might also like 10 NEW SONGS. Very low key, absolutely without excitement. It's satisfying beyond my understanding.
If Cohen is a new artist for you, the single best introduction may be ESSENTIAL LEONARD COHEN, a 31-song, 2-disc set.
No, on reflection, the best introduction would be a 2005 film -- part documentary, part concert -- called LEONARD COHEN: I'M YOUR MAN. Then go to his albums.
November 2018, I put the very best LC set of discs on my shelf: LIVE IN DUBLIN (2013). Not a perfect concert (having two songs I'd have skipped, and not including "Joan of Arc," "There Is a War," and "Sisters of Mercy") but with superb musicians behind him and including a DVD of the full concert, too, this may be the first choice of not just his albums, but any albums.
------
Cohen dies 7 November 2016 at age 82, still touring, still recording, still moving audiences to tears and cheers. https://cohencentric.com/memory-leonard-cohen/ for more about him.
Artist: Judy Collins
CD Title: Favorite Songs Burned From Many Albums
Comments: This won't take long. Judy Collins is an icon. What's to be said that hasn't been already?
Back in the '60s, when, as the Animals sang, "I was young," folk was one of my favorite kinds of music. Today, though, I rarely play Phil Ochs, PP&M, Tom Rush, Bob Dylan, Tom Paxton, Fred Neil, Tim Hardin, Pete Seeger, and others of that time. Maybe the songs weren't that good. Certainly some of my idealism has faded.
But I still love Judy Collins.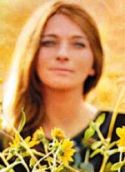 She was blessed with (and developed) three gifts: a glorious voice; the intelligence and taste to choose wonderful songs for that voice; and producers to back her with excellent musicians and arrangements. You've probably heard her versions of Send in the Clowns and Amazing Grace, and agree there are none better.
The most recent of her albums I've heard is BOHEMIAN (2011). It's getting rave reviews on Amazon, but it's not working for me, and I'm not fool enough to think the fault is hers. Remarkably, if you heard the album you'd say, "Gosh, it sounds like it came out in the '60s or '70s, but I've never heard it before." That wonderful voice, in its seventh decade, remains as clear, strong and young as ever.
In fact, none of her albums of recent years work for me. It can't be her voice, so it must be the song selection. The Elektra label, where she recorded in the '60s and '70s, is where to look for my favorites: FIFTH ALBUM; WHO KNOWS WHERE THE TIME GOES; JUDITH; and WHALES AND NIGHTINGALES.
While her voice alone would bring her to the Deserted Island, Judy Collins was also an excellent guitarist and a superb pianist. A most remarkable woman.
Postscripts:
January 16, 2015: we learn Judy Collins is still going strong.
February 2016. I'm listening to her 2015 album STRANGERS AGAIN, 12 duets with 12 different men. Whatever we might think about the songs, we're all in agreement about her voice. Magical.
Artist: Robert Cray
CD Title: Favorite Songs Burned From Many Albums
Comments: Better than anyone else I know of, Cray has kept modern blues alive, writing or choosing songs with fine melodies and lyrics (see Night Patrol or Right Next Door).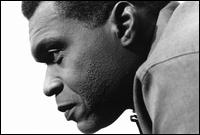 His songs are usually on the relations between men and women, but without the blues' limiting template of "I feel so sad, I feel so sad, It's because my woman is so bad."
Cray's band, behind him for years, provides him the reliable support every singer and lead guitarist needs to stretch out.
Though he's been mining the same field for 30 years, he keeps bringing up gems. His albums will have a few songs that he mailed in, but plenty that will bring on a heart attack. Start with STRONG PERSUADER, his best CD if I had to choose one, or SHOULDA BEEN HOME, or DON'T BE AFRAID OF THE DARK, or SWEET POTATO PIE, or....even his 2010 COOKIN' IN MOBILE.
If there were any justice in the world, it would be Cray you've heard about, not the no-talent hip-hop "artists" sneering at us on their way to the bank.
Artist: Emmylou Harris
CD Title: Favorite Songs Burned From Many Albums
Comments: Now this is really impossible, to choose only one CD by Emmylou Harris. My collection of almost 600 CDs, regularly culled, has more (11) by her than anyone else. (In second place, and giving an idea of my peculiar taste, is Robert Cray with 9. George Winston and Ry Cooder, each with 7, come in third.)
Why do I like her so much?
| | |
| --- | --- |
| | She always had a gift for choosing terrific songs written by others, and found talented musicians to back her. Then, after some years, she developed into a fine songwriter herself. |
| | With the most distinctive voice in music, seconds after you hear her, you know who it is. She can be heart-wrenching as lead, never failing to add something special to a harmony. |
| | She's worked in folk, moved to country, went alternative-rock (or whatever it's called), and was great in all of them. |
Finally, it doesn't hurt that she's always been, then and now, drop-dead gorgeous, one of the most beautiful women of my generation.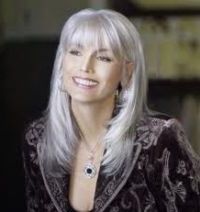 In the mid '90s, with WRECKING BALL and RED DIRT GIRL, she moved away from her country/bluegrass style. Some didn't like where she'd gone. I didn't at first. The sound was very different, dark, with deep, distorted guitar. Now I find myself listening to it more than her older work.
Of her almost two dozen albums, there are only a few I don't much like. In other words, start anywhere with her, and you can't go far wrong.
If she's new to you, it might be best to start with her recent compilations like ANTHOLOGY: THE WARNER/REPRISE YEARS. Or try EVANGELINE or BLUEBIRD, both just about perfect to me.
If you're a fan already, let me recommend SONGBIRD: RARE TRACKS AND FORGOTTEN GEMS, with 4 CDs and 1 DVD.
Artist: John Fogerty
Like everyone else in the late '60s, early '70s, I was a fan of Creedence Clearwater Revival.
After CCR disbanded, John Fogerty continued to make fine solo albums. The best of them, an inspired album I still love today, was BLUE RIDGE RANGERS. In it, he plays every instrument, as Bobby McFerrin did with voices in his own classic album, SIMPLE PLEASURES.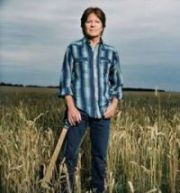 An under-appreciated song writer, Fogerty continued to make good albums over the decades. You've probably heard songs from CENTERFIELD or BLUE MOON SWAMP.
It's only been recently that I've discovered him again. It started with the album REVIVAL, which led me to THE BLUE RIDGE RANGERS RIDES AGAIN. Both fine albums, they led me to buy the concert DVD, COMIN' DOWN THE ROAD, among the best concerts on disc.
Fogerty was 63 years old at the concert, but played and sang as if he were still with CCR. How much longer can he keep going?
If he stopped right now, he'd be able to say that he'd done enough.